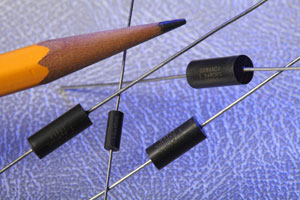 [Nota de prensa disponible sólo en inglés]
Gowanda to launch new RF inductors for military applications
Gowanda Electronics, a US-based designer and manufacturer of precision electronic components for power and radio frequency applications will launch five new RF inductor series for military applications at the upcoming Space Tech Expo being held May 19-21, 2015 in Long Beach, Calif. Visit Booth #2118 for more information.
This introduction expands the number of QPL-approved MIL-PRF-15305 MS part numbers that can be addressed with Gowanda components. The five series that achieved Qualified Product List status and the seven MS numbers they address include: MRLF19M (MS90539), MLRF21M (MS90542 and MS14052), MLRF22M (MS90540), MLRF24M (MS90541) and MLRF28M (MS75103 and MS91189).
These RF thru-hole, wirewound, molded inductors are designed for radio frequency applications in military, aerospace and defense communities. They have utility in communication, guidance and security applications, as well as in radar, test & evaluation and special mission applications
The overall performance range provided by the new series includes: inductance from 0.47 to 10,000 uH, Q min from 35 to 95, SRF MHz min from 0.95 to 300, DCR Ohms max from 0.06 to 72, and current rating mA DC from 47 to 2400. Refer to the table below for series-specific values.
Cores are powdered iron or phenolic depending on MS number. Operating temperature range is -55°C to +105°C (Class A) for powdered iron core parts and -55°C to +125°C (Class B) for phenolic core parts.
This multi-series introduction enhances Gowanda's QPL-approved product line and demonstrates the company's ongoing commitment to the development and introduction of QPL products that address the needs of the military and aerospace markets.
For more information regarding pricing, delivery or upscreening requirements for Spain and Portugal, please contact us.