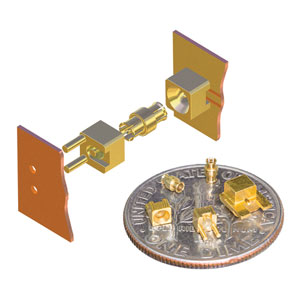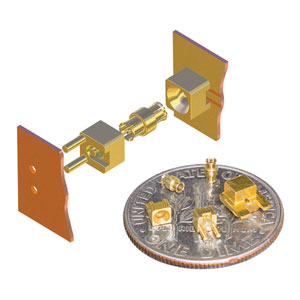 [Nota de prensa disponible sólo en inglés]
Southwest Microwave Introduces SuperMini Board-to-Board DC to 67 GHz Connectors
Southwest Microwave, Inc., a leading global supplier of high performance interconnect solutions, has announced the introduction of a new line of SuperMini Board-to-Board DC to 67 GHz Connectors. These RF / millimeter wave blind-mate connectors optimize interconnect performance for board-to-board stacking applications.  
Based on Southwest Microwave's superior coax platform, SuperMini Board-to-Board connectors maximize electrical performance of the transmission path between connector and circuit while accommodating axial misalignment of up to .010" and radial misalignment of +/- 5° via unique bullet and PCB receptacle (jack) designs. With an array of available bullets that enable board-to-board spacing as close as 3 mm, this solution assures RF / millimeter wave transmission line dependability for tightly stacked PCBs.  
"As with all of Southwest Microwave's interconnect solutions, SuperMini Board-to-Board connectors are built to industry-leading performance and quality standards," explained Don Bradfield, Southwest Microwave's General Manager.  
"Millimeter wave performance of this product family is superb, even with misalignment, and performance is highly repeatable. Moreover, low mating insertion force allows for an increased density of interconnections per board, and our unique bullet design enables extended mating and de-mating cycles."  
Designed to optimize match to circuit for surface and thru-hole PCB mounting applications, SuperMini Board-to-Board connectors are available in smooth bore or detent style Vertical and End Launch jack configurations for stripline, microstrip and grounded co-planar circuit launch transitions. Additionally, smooth bore and detent style 4-hole flange SuperMini Board-to-Board jack to 2.92 mm (K) jack adapters are available.  
Southwest Microwave can also supply complete direct solder cable assemblies supporting connectors of varying frequencies to simplify high-performance, push-on test connection to SuperMini Board-to-Board Vertical and End Launch receptacles.  
Learn more about SuperMini Board-to-Board Connectors  
Contact us with questions about these products or for a project quotation.
About Southwest Microwave, Inc.:
Since 1981, and earlier as the Connectors group of Omni Spectra®, Southwest Microwave has been providing a broad range of high-performance microwave connectors and adapters, currently available from DC to 110 GHz, for hi-rel / space, defense, instrumentation, integrated-circuit and PCB evaluation applications. Built in the USA to rigorous performance and quality standards, Southwest Microwave interconnect solutions offers the industry's lowest VSWR, insertion loss and RF leakage.