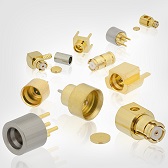 New Inexpensive Version Of SMP Connectors, Up To 8 GHz, Introduced By Pasternack Enterprises
Pasternack Enterprises' new 8 GHz SMP connectors are specifically designed for low frequency, high density applications where the benefits of a small RF connector are utilized. Common uses for these low frequency SMP connectors include blind-mate interconnect systems and miniaturized high density coaxial modules, such as connecting to a small PCB. Low frequency 8 GHz SMP connectors carry the same "small-footprint" advantages as their higher-frequency counterparts, but are a more cost effective option when a 40 GHz connector is not needed. Cost savings can range from 50% to 75% when compared to standard SMP connectors.
Pasternack's low frequency SMP connectors are typically attached to cables assemblies using RG178, RG405, and 0.047" diameter semi-rigid cable. The connectors utilize Beryllium copper (BeCu) and Kovar alloy at critical contact points in their designs, while brass and stainless steel are used in non-contact areas. These new 8 GHz SMP versions are also compatible and fully mate-able with Corning Gilbert GPO® connectors.
About Pasternack Enterprises, Inc.
An industry leader in RF cable assemblies, adapters and connectors since 1972, Pasternack Enterprises is an ISO 9001:2008 registered manufacturer and global supplier of RF and microwave components and assemblies. Pasternack offers off-the-shelf availability and same-day shipping of the industry's broadest selection of RF and microwave components.